What would you do on a bright sunny morning, with beautiful fluffy clouds overhead?
Loved the clouds!
Together with
Victor
,
Clauds
,
Mus
and
DK
, we went for the sneak at the
Navy Open House
.
At first, it reminded me very much of the
Singapore Airshow
, with lots of warships displayed.
But I was wrong, when the action started...
Rescue team saving the hostage from the terrorists.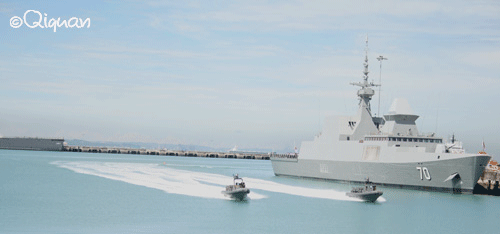 We, bloggers, all ready with our cameras to catch the exciting moments of the Naval Display.
After the Naval Display, we visited a Stealth Frigate, RSS Steadfast.
The deck is the area for helicopters to land.
View from the cabin. Nice!
There are lots of details in the Frigate that intrigued me...
High tech is very much used to support the frigate's lean crew.
Of course, how can we miss the chance to explore the crew's lodgings as well?
The bunk for senior officers. Double beds, a computer and an attached bathroom/ toilet.
Guess where are we? We are at the laundry room.
Next, we had a cruise on a Missile Corvette, RSS Valour. It was travelling really fast, and I loved the wind gushing against me...
The compass used to measure the angle the target is from.
One tip, I've learnt on this trip...
Maps are known as charts in navy.


Eager to catch some action on your own?
Head down to the
Changi Naval Base
,
today and tomorrow
, from
9am to 7pm
.
Directions to get there:
By shuttle bus:
Entry to NOH is by shuttle bus only from Singapore Expo Hall 1. The shuttle bus service will commence from 08:30 till 16:30 on both days.
For other transport options (car/ train/bus), pls click
here
.
There are also various contests you can participate and stand to win cash vouchers!
Photo Contes

t- share your favourite picture along the theme "My Navy" on this flickr group.
Tag Contest

- photographers will be roaming around, taking pictures of the participants. Tag yourself in these pictures.
Have fun at the Navy Open House!
And special thanks to
Kelvin
, for the invite! It was such a blast :)