Unlike last year, this year I managed to catch
F1
"live" and not as a potato coach :P
Thanks to
24seven
, we managed to get a
single day pass
to catch F1 from the Singapore Flyer. and that includes 2 river taxi rides as well. Shy to say, I have yet to try Singapore's river taxis, though I have tried those of other countries :P Thus, after
Huishan's
invitation to the adventure, I was very much looking forward to it. :)
Together, all 4 of us,
Victor
, Huishan,
Shuyun
and me, started our adventure at Clarke Quay, after stepping foot onto the river taxi. The
Hippo taxi
was rather huge, with many seats, possibly able to seat about 30 passengers.
Once onboard and settled, we started to move around, happily snapping pictures of Singapore's night scenes. It's interesting to watch these iconic landmarks from the river, with reflections of them in the waters.
And. we reached the Singapore Flyer.
One of the best benefits of the pass is... it gives us unlimited rides on the Flyer! But we only took 2, due to time constraints. Nevertheless, it was a wonderful experience. This would be my 2nd and 3rd time on the Flyer. I had first tried the Flyer when it was launched not long ago. Then, I had decided that the next time to visit would be when the Marina IR is ready, to look at the new view, instead of the current work-in-progress state.
Finally, we are in time for F1! From the Flyer, the cars looked so much like toy racing cars and eventually "ants" as we went higher and higher. Every passenger on the capsule crowded around the sides with cameras of all sizes to catch a snapshot of the action. The areas where turns can be spotted are especially crowded :P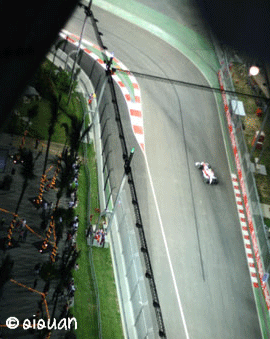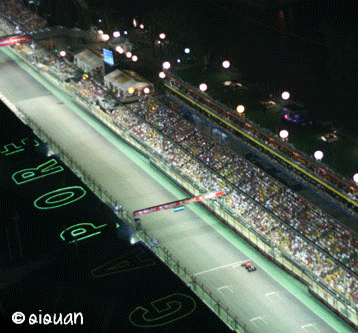 After the ride, we came down to catch the action closeup. But it was a very "loud" experience, especially without ear plugs. Watching the racers in action, reminded me of "
my first racer experience
" :P
And with that. we ended our adventure. :)
For more snapshots, take a look at my
facebook photo album
.