26 July 2013. 7pm.
A moment of elation, when my friend informed me that she has won a pair of World Movie Premiere tickets for "謎解きはディナーのあとで After-Dinner Mysteries" from Golden Village Club! We have been trying to get our hands on the tickets for the past one week, since the ticket contests were open for entry.
This is the first time an 嵐 member has held a public event in Singapore! This time Singapore is picked because the location shoot for the movie was in Singapore - Raffles Hotel, MBS, Merlion Park, Star Virgo, Harbourfront...
It was definitely a period of sweet relief from my bad day and I spent the night rambling my belongings, looking for Arashi goods in excitement. And I found this: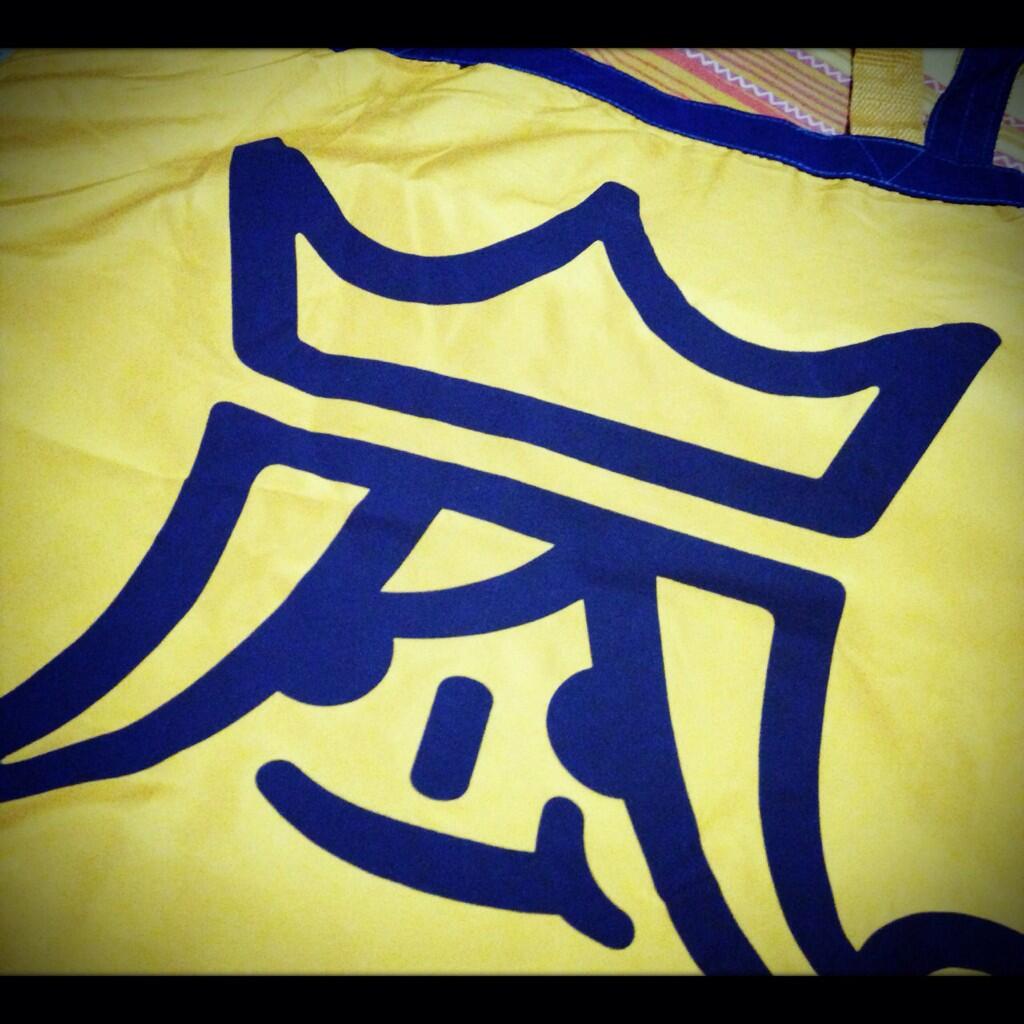 TIP
In future, when I am buying Arashi goods, I am going to zoom in on big uchiwas (fans) and bags! They are the most practical for such events!
27 July 2013. 5.30pm.
Wow... look at the crowd at the Red Carpet Event at MBS Expo.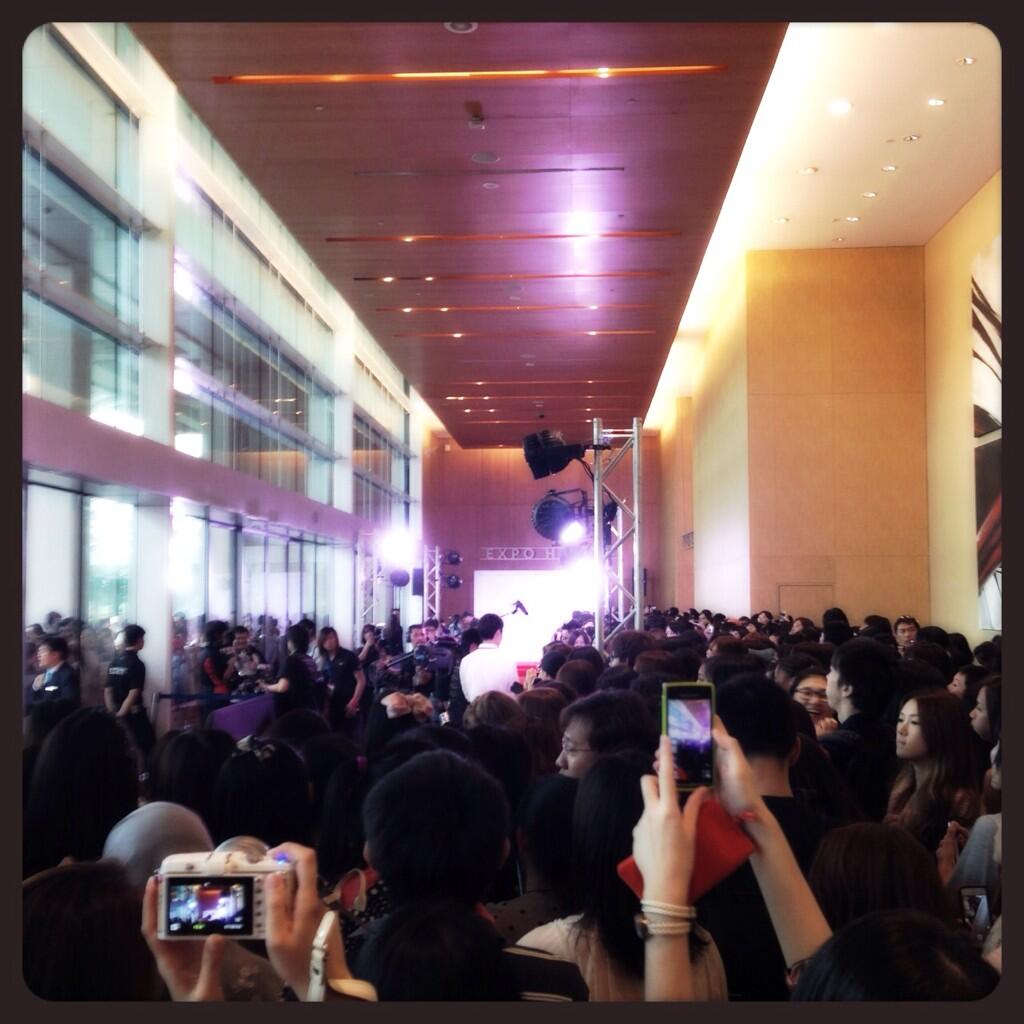 We came too late, unable to join the other Singaporean fans along the carpet area.
But wow... there are actually quite a number of Japanese fans who flown in to catch a glimpse of the cast.
27 July 2013. 6.30pm.
They are here!!! 嵐 fans, scream!
27 July 2013. 7pm.
"謎解きはディナーのあとで After-Dinner Mysteries" started.
Packed with more punch, unexpected twist, and pockets of humour. I really enjoyed the movie. Do you remember Nodame's teacher, Franz Strezemann, the really funny guy in "Nodame Cantabile"? The actor, 竹中直人, also appears on "After-Dinner Mysteries", too, livening up the mood.
Of course, 桜井翔 looked as 格好いい as before. (Mmmm.. I think this is my first time seeing him on the big screen!)
Do remember to catch "謎解きはディナーのあとで After-Dinner Mysteries" on the big screens when it opens on 22 August!
27 July 2013. 9.20pm.
After the movie screening, Director Masato Hijikata, Sho Sakurai
*scream*
, Keiko Kitagawa and Shiina Kippei joined us on stage for the interview led by 杨君伟.
Ok, I take back my words. 桜井翔 looked much better in person! Though he looks very small from where I was seated. (I'm on the second floor!)
And here are some snippets for fellow 嵐 fans: (The video quality is not good, but the sound capture is not bad.)
桜井翔 greeting Singaporean fans in Singlish :D His English opening peppered with our local favourites like "alamak", "hor", and even Malay greeting "terima kasih" which means "Thank you", surprised many of us. 好亲民啊!
桜井翔 shared about his makan experience in Singapore. P.S: He seemed to like our chicken rice a lot.
This segment is in Japanese. Hence here's a fan service, by me, translated in English.
Pardon any amateur mistakes. :P
I've tried the chicken rice in Singapore. *cheers from the crowd- proud of our hawker heroes!*
At a place which I think it's called Little India. It looked like a food court, somewhat like yattai (outdoor food stalls in Japan).
I sat together with the locals. There were 2 girls, one of them was eating, and I sat near them. However, no one noticed me.
*"Eh?!" from the crowd. Yeah. We can't believe no one has spotted him! He is so famous/格好いい/etc~*
*Tickled by our response* Thank you! *cheers from crowd*
It was delicious.
After I returned to Japan, I ate Singapore Chicken Rice again (in Japan). But as expected, the local one in Singapore tasted better.
If I am back in Singapore, I want to eat chicken rice again.
*looks at watch* But I think I can't (tonight).
Finally it ended with a wide-angle photo shoot of the cast and the Director with the audience.
And that marked the end of a magical night.
Btw. 桜井翔 left on a midnight flight back to Japan after the event. 真是来去如风啊。
*additional updates on 3rd Augusr 2013*
Golden Village will have having a fan screening on:
Date: 14 August 2013
Time: 7pm
Venue: GV Plaza
Complimentary: All cast poster
Price: $16 for Golden Village members and $20 for the general public
How to book: Tickets on sale here.
Other related posts:
-
Catch the filming sites of "After-Dinner Mysteries" 「謎解きはディナーのあとで」の撮影場所